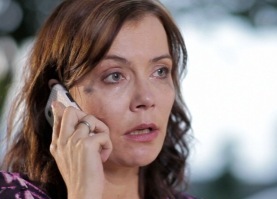 The main character of the series «Six Areas of Love», Natalia (Ekaterina Semenova), considered herself as the happy woman. Seventeen years ago, she married Pavel Vorobiev (Dmitry Yachevsky) and gave birth to son - Nikita (Pavel Lemeshko). Pavel heads the network of flower shops "Violet", Nikita studies in the United States. Natalia adores her son, husband, flowers and their easy life. Nice, well-groomed, cheerful, light-hearted and cute Natalia holds the position of Assistant Director of "Violets", but actually solves nothing. She just likes to come periodically to work, enjoy the flowers, joke with her subordinates and be with Pavel. Pavel works a lot, in the management of the company a thirty-years old Lisa (Alexandra Bulycheva) helps him, CFO of "Violets." Lisa, unlike Natalia, is the businesswoman, Pavel not only respects Lisa, as an employee, but also sleeps with her. The "empty" Natalia makes him annoyance.
Illusion of carefree life falls when Natalia catches Pavel and Lisa. Natalia immediately decides to leave everything and go to the old country house of her parents in "Yagodnoe." Here she meets her first love Dmitry (Vitaly Kudryavtsev). Once in their youth Dmitry and Natalia walked under the stars, sang songs at the fire and kissed behind the barn. Dmitry sees Natalia in gardening, and old feelings wake up. Despite the mental anguish and disappointment, he becomes a real rescue for woman. She understands that in fact she has had no real feelings for a long time.
However, what about Natalie, she has to make a tough decision between the old and new life. Jealousy or passion, revenge or forgiveness - the heroes need to seek a basis for a new life, but to make this choice is not easy.