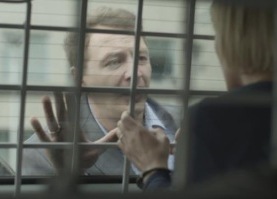 On Monday, May 12 at 21:30 on the 1 Channel starts melodramatic series "The Second Breathe". Picture tells a fascinating story of love, betrayal, sacrifice and the great power of maternal feeling.
In the center is a modern story that tells about the life obstacles of a married couple of physicists. The plot of the series «The Second Breathe» will describe life tragedy and personal achievement of main characters. The main character is a strong woman, in her life the period of failures began. Her husband brought down a police inspector, and in order to save the family from poverty woman takes the blame and goes to prison instead of her husband, and in return receives a betrayal of him. Exhausted from the endless tests of fate woman will be able to put her physics talents into practice and find new love. For such women, there is nothing impossible. Love and faith in their own strength helps to recover and move forward.
Starring well-known actors - Victoria Tolstoganova, Marat Basharov, Yegor Beroev and others.
The history of "The second breathe" is very simple, very clear, it deals with the usual relationship between a man and a woman who were deadlocked on the family. Probably, now it makes sense to show such work, maybe it will help families find certain common language and deal with existing problems. "
Filmed in Moscow and in Skolkovo.
"Skolkovo became the center of nanotechnology. Laboratory is a specially constructed decoration. We have consulted with scientists and learned many interesting things. Element, on development of which is working the main character is, of course, fiction, but not very far from the truth. In nanotechnology discoveries are made every day. The direction, which deals with human health, was important for us. Nanobots or molecular robots help humans.
The second breathe is a new life, a new work of the character, new aspirations, new desires. When the character loses everything, she begins to prioritize. According to Vika, when her character's child got sick, she changed purposes. It is important for her to develop the new as soon as possible not for the career but for the child. "
Director Sergei Pikalov
He graduated from Yaroslavl Theatre Institute. Known for the TV series "Be not born beautiful" with Nelly Uvarova starring. Also directed the film "Mymra" with Vladimir Vdovichenkov, the TV series "Captain Rumin private matter" and the series "The Second Breathe" Marat Basharov and Victoria Tolstoganova starring. Russian-Azerbaijani film "Sonuncu" director by Sergei Pikalov will participate in the short film competition of the 67th International Cannes Film Festival.