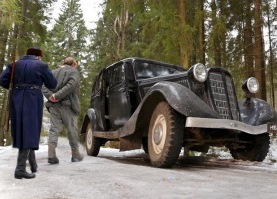 Action series called «Nanny» is against the backdrop of the tragic events of the first half of the XX century and covers two decades: the revolution and civil war are behind and in front - cannibalization (1928) and collectivization, political repression (1932-1953), the elimination of banditry, the Great Patriotic War and hard post-war period (1946-1951). The main character Tatiana performed by young actress Anna Starshenbaum, eighteen-year-old country girl marries Nicholai (Alexei Barabash) against her father (Sergei Garmash). But young people have very little time for happiness, fate separates them for many years. Tatiana has two children, which are not her, she must save and grow them in spite of adversity and misfortune. In this new work directed by Sergei Pikalov («The Second Breathe», «Be Not Born Beautiful») troubles in the history of the country become a personal test for heroes and their relatives. Will they be able to pass through their long sequence, remaining true to yourself, and meet again their love?
According to the authors first uneducated and slightly awkward nanny takes care and protects the boys, remaining with her at the behest of the evil case, and becomes their real mother. On the narration course her character gets broader meaning and grows into a collective portrait of the Russian selfless woman who is ready on everything for the happiness of children.
Special attention is deserved the work of art director Igor Kotsarev ("Nightingale the Robber", "Island", "Rasputin") who accurately recreated on screen critical era, when pre-revolutionary way of life which is saved in apartments of intellectuals 20s is changed by Soviet way of life.
Roles in the series also play Yuri Tsurilo, Olga Tumaykina, Dmitry Mulyar, Julia Aug, Andrei Frolov, Natalia Rogozhkina, Vladimir Kapustin, Katarina Spiringen and others. Shootings will take place in the picturesque places of Karelia, Vyborg, St. Petersburg and Moscow.